40% Lower TCO with a Modern Data Analytics Platform in Azure Cloud
Our client wanted to modernize their CRM and website, as well as to enable self-service BI and predictive analytics for business users across the organization by facilitating artificial intelligence capabilities. 
reduced Total Cost of Ownership (TCO)
faster solution development using Azure Synapse Analytics
Background and Challenge Story
The client is executing a digital transformation program that includes a CRM system migration (from MS Dynamics to MS D365), a new website, and a new financial system. A further part of this transformation is the provisioning of data to end users for analytical purposes via a modern analytics platform (MAP).  
Previously, the data was flowing from Microsoft Dynamics to excel spreadsheets where the reports are manually created and updated. 
In the Modern Analytics approach, the data will be centralized in Azure where the enterprise data warehouse area will be used for generating dashboard reports that will be visualized using Power BI tool. 
The previous state data flow was as follows: 
Illustration 1: Legacy data flow 
Modern Analytics Platform, data flow will be as follows:  
Illustration 2: Modern Analytics Platform Data Flow
In the Modern Analytics Platform, data will flow directly from Azure to Power BI. 
The data stewards were spending a significant amount of time collecting, curating, and cleaning up data to get it ready for reporting. Moreover, it was taking huge resources to get meaningful business insights the right way. The senior management realized it should not need to deploy that level of resources to get this job done.  
Our client was resolute in its need to modernize applications and centralize its data infrastructure to create a single source for all information. Therefore, they engaged Adastra to help build a Modern Data Analytics Platform in Azure Cloud. 
Solution Story: A Modern Data Analytics Platform in Azure Cloud
Adastra proposed a Modern Data Analytics Platform and enterprise data warehouse solution that would meet customers' requirements and future-proof its IT Infrastructure. Adastra's consultants performed a thorough cost analysis associated with setting up and supporting the solution downstream.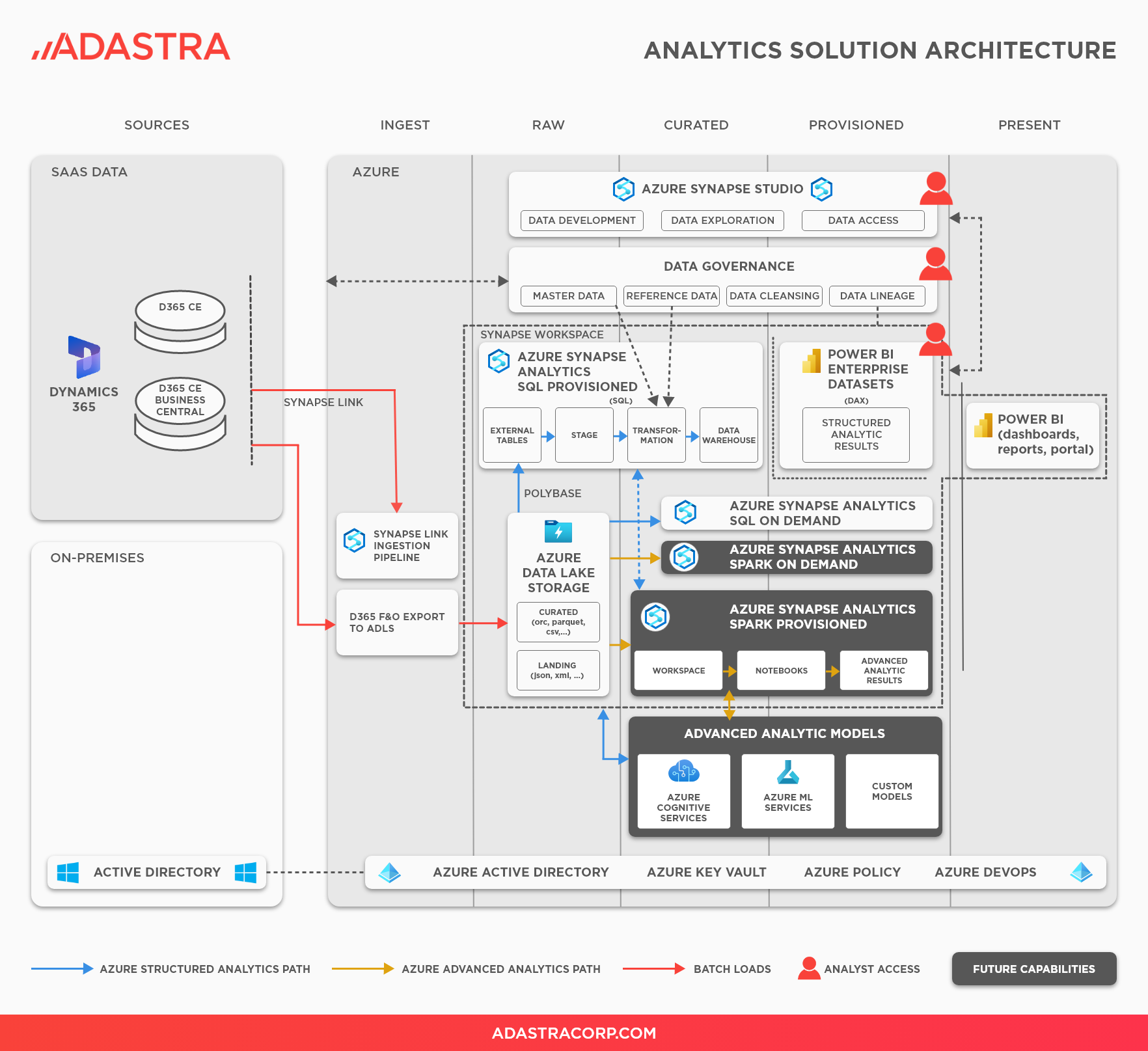 Illustration 3: Analytics Solution Architecture 
The Modern Data Analytics Platform followed suit of Adastra's modularized Azure reference architecture. It provided the flexibility to tailor the data platform to the specific business needs of our client. The cloud analytics platform supports high volume of data ingestion while optimizing the cost and processing of information. 
Data ingestion:

Extract/Load/Transform (ELT) model for data extraction is adopted. Synapse Azure Data Factory Data pipelines allow to source data in a push mode and lands it in Data Lake as Optimized Row Columnar (ORC) files (.ORC is a columnar data store that provides utmost querying performance and optimizes data storage size with a 1:5 compression factor).

 
Data integration in the data warehouse

applies an ETL model. Data is staged in an enterprise data warehouse using PolyBase which is a virtualization layer allowing to extract data from the data lake 20 times faster than any ETL tool. Data transformation processes start right after data onboarding in the data warehouse. It involves all the stages that are needed to cleanse, transform, and aggregate data. 

 
An Azure Data Lake

serves as a repository to maintain ingested data of any type: structured, semi-structured, and unstructured. Depending on requirements, several zones can be provisioned to cater for different use cases and support both analytics and data science purposes.

 

An Azure Synapse Data Warehouse

hosts integrated and modeled data for analytical processing. It essentially feeds the Power BI dataset.

 
Adastra's data engineering team worked closely with the client to come up with the best data modeling design that meets all business needs. 
Illustration 4: Conceptual model 
Power

BI

consumes the data from the Azure Synapse instance by using import mode. Import mode means that after the data is read from the Azure Synapse, it is stored in a highly compressed mode inside the Power BI engine. 

 
After the initial load to Power BI has happened, the data is published to the Power BI Service in a dedicated workspace backed by Premium per User capacity. By using the large dataset model option, this setting improves data refresh and report performance. 
Dashboard: Executive summary (sample data set) 
Dashboard: Revenue by Distribution (sample data set) 
Benefits
Story
Adastra's Modern Data Analytics Platform in Azure Cloud provided our client with self-service analytics capabilities for the business users. The reporting time was optimized, and users were able to view real-time analytics.  
The modern analytics platform allowed the client to standardize their reports. Three excel reports that were previously taking a long time to prepare are currently showing in a single report with real-time analytics. 
Adastra's Azure Cloud solution provides scalability and high availability while being cost-effective and secure. The Azure Modern Data Analytics Platform now turns the client's data into actionable insights on any device in a fast and reliable fashion. 
The implementation of this modern data platform acts as a critical step toward the organizational evolution of a data-driven strategic management. Our client now has the ability to influence innovations with real-time analytics and experiences low latency configuring future data pipelines. 
Cost
Modern Data Analytics Platform reduced Total Cost of Ownership (TCO) by more than 40%.

 
Speed
The client develops solutions 3X faster using Azure Synapse Analytics.

 

The client implements and scales services immediately, with no delay.

 
Reporting
Adastra enabled standardized reports from different sources.

 
Adastra enabled real-time data analytics.

 
Accuracy
Data confidentiality and integrity – 100% cleaned data.

 
Need a similar solution? Get in touch with us, we can help.