#ChooseToChallenge: Celebrating Women at Adastra
From the very beginning, Adastra has been a champion for Women in STEM and has strived to create a culture of inclusivity. We believe that by providing equal opportunities to the women of today, we empower the entire generation of tomorrow to choose and succeed in their own path.
On the occasion of International Women's Day 2021, it is our endeavor to showcase the successes of brilliant, bold, and passionate women at Adastra in the hope that they will be an inspiration to other females who are interested in STEM. Read the stories of some women at Adastra who #ChooseToChallenge gender stereotypes, the metaphorical glass ceiling, and themselves, on a daily basis:
Shannon Corless, Senior Vice President, Financial Services
Shannon leads the Financial Services Account team at Adastra and is accountable for all our big banking and insurance clients from both a sales and delivery perspective. Having been with Adastra for over 10 years, Shannon is satisfied with how her career journey has shaped up. "Joining Adastra has been the single best decision of my career. I love what I am doing right now and have achieved all my goals." She attributes her success to hard work and support from her mentors and tries to give back by mentoring younger women, providing them the tools to succeed.
As a strong advocate for inclusivity in the workplace, Shannon leads Adastra's Women in STEM initiative. "I am inspired to support women who are starting their careers, to ensure they feel the support of the strong community of women in the industry. My motivation is to amplify women's voices so that we all feel empowered to succeed." She sees herself encouraging women to use their voices and feel powerful when sitting around a boardroom table. "I try to lead by example by actively participating in conversations, even when I'm the only woman in the room."
Shannon firmly believes that gender equality in the workplace needs to be a team effort and it is important to include men in the conversation. "Moving the agenda forward for Women in STEM will require women supporting women, men supporting women, and women having the strength to use their own voice. I was lucky to have benefited from open-minded strong men who only saw my capabilities and potential, but I also operated as if there was no glass ceiling to limit me."
Her interests are not limited to work, and she is deeply passionate about her dogs and animal welfare. She regularly donates to the Toronto Humane Society, and in 10 years, sees herself owning a dog sanctuary/shelter.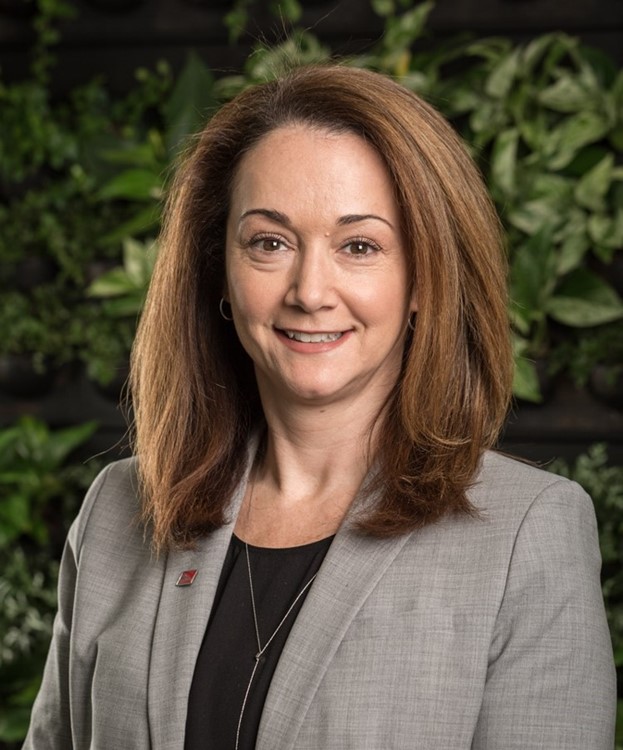 Alena Miazga, Practice Lead, Business Intelligence
Alena leads Adastra BI and Visualization practice and is responsible for successful delivery of BI projects for our clients. She ensures that we offer the latest BI ideas and solutions to our customers and, in addition to supporting pre-sales activities, she runs trainings and events for clients.
She started at Adastra as a Nova (Junior) consultant 8 years ago and takes pride in how far she has come. "I was given tremendous opportunities, which have allowed me to grow into the person I am today. The support I received from my peers and mentors helped me make the right decisions along my way." She has found the perfect career niche for herself, and hopes to continue growing in her chosen area, as a link between technical consultants and account executives on the sales side.
A firm believer in equal opportunities and representation, Alena strives to create an inclusive work environment for other women. "I make sure my judgment is always unbiased and that I'm open-minded to all opinions and ideas. I create a supporting, listening environment where everyone feels welcome and heard." She hopes younger women who are thinking of applying to STEM programs in universities can look at her as a role model. "Don't be afraid to be who you are. My story shows that anything is possible."
Outside of work, Alena is a passionate baker and loves making French desserts. She has taken several professional classes in Paris and Barcelona with some of the most talented pastry chefs in the world and is looking forward another pastry trip to Italy after the pandemic.
Loan Ly, Vice President, Customer Success (Financial Services)
Loan manages strategic Financial Services accounts at Adastra, and her role focuses on building relationships with clients based on trust and respect. She ensures successful collaborations with clients by understanding their immediate and long-term needs and making certain that we deliver on them, as an organization. In her 13+ years at Adastra, she has proven her mettle and scaled the ladder through hard work and commitment.
As a woman in STEM, Loan draws inspiration from her mother and attributes her success to the freedom and encouragement she received from her parents to pursue any career, especially in Science or Math. "My parents were displaced immigrants, who fled their home country after the Vietnam war. In a world and a time where gender roles were clearly defined, my mother was unafraid and courageous in her convictions. Growing up, she did not relegate me into gender specific stereotypes, and instead convinced me that I can achieve success through strong academic achievements."
Before attending University or joining the workforce, Loan had never given any thought to gender disparity in STEM, but her first year at University was a learning experience. "It was suddenly no longer a gender-neutral world. Most of my professors, and later, colleagues, were men. It was common to be the only woman in the room." Twenty years later, she still hears similar stories from young women who are starting their career. "What I've learnt is that not all young women received the same encouragement that I did. Some feel intimidated, some feel societal pressure to pursue other gender-friendly roles, and others have stereotypical images of what it means to be a woman in STEM, which are either not true or not completely true."
On her part, she wants to give young women the encouragement she received. "If you are a young woman interested in STEM, there is no reason you cannot succeed. Having women in STEM is vital to ensuring that we have a female viewpoint/lens for the next generation of innovative ideas and products."
Katya Dunets, Data Science Consultant
As a member of the Data Analytics team at Adastra, Katya is responsible for delivering data science and advanced analytics solutions to clients. Over the last two years, she has worn a number of hats (and carried them off!), including those of a Data Scientist, Application Lead, BSA, and Data Developer.
"Adastra has given me the opportunity to work with some incredible mentors who have supported my career growth and aspirations, while also providing me with tools and guidance on the way. Recently, I was part of a major cloud migration initiative, and after a few months of being a Data Scientist, I was asked to take on the role of Application Lead. The project was challenging and pushed me to my limits, but it also brought out leadership abilities that I did not know I had, and I emerged a better consultant."
For Katya, the most exciting part about data science and technology is that it can impact every single industry. "Coming from a biomedical sciences background, I've always been most passionate about the pharmaceutical/medical industries and the potential that advanced analytics has to shape these domains. In 5-10 years, I hope to be directly involved in or lead the development of solutions that advance those industries, ultimately for social good."
"Connecting with strong, intelligent women has paved the way for me to have a seat at the table, and I feel more confident in the feasibility of my future goals and aspirations." Even though she graduated years ago, she continues to TA courses for her university and mentors students who are pursuing STEM degrees. "I love working with undergraduate students and try to provide them advice on navigating through the career uncertainty I felt when I was a student." She aims to advocate for more women in fields like biomedical sciences to consider technology as a career option.
"I think allyship from both men and women is a critical factor to ensure the success of gender equality and representation in STEM. It is important that men not only recognize the challenges women face in the workplace, but actively work to alleviate those inequalities. Many people at Adastra work hard to foster an environment of inclusivity and openness, allowing even newer consultants to feel comfortable reaching out for guidance and in turn contributing to their success."
Rozina Jiwani, Business Intelligence Consultant
As a BI Consultant, Rozina's role at Adastra spans across positions like Certified Scrum Master, Project Manager, and Business Analyst. During the 10+ years she has spent in the organization, she has constantly been challenged to step into different roles to deliver superior customer service.
Rozina believes that equal opportunity, open mindedness, trust, respect, and mentorship are key ingredients for an inclusive work environment. As a woman in STEM, she is inspired by the endless possibilities and options in the field. "STEM challenges us to take chances, work together, conceptualize, and find solutions that make a difference. This winning formula amalgamates the best of everything in STEM."
The pandemic has changed the way she views her career goals, and it is no longer about the next position or job title to her. "We have been reminded that we are surrounded by uncertainties and nothing is permanent. The best thing to do is to make yourself resilient, continue to learn, and never give up."
In addition to her career, Rozina is passionate about helping others and spends her free time volunteering. From teaching and reading to kids to volunteering for disaster management and emergency response, this bright beacon tries to give back to society in whatever way she can. She also loves travelling and enjoys exploring new places, cultures, and cuisines.
Her advice to other women in STEM: "Like the name Adastra signifies, (Ad astra is Latin for "to the stars") aim for the stars, be passionate, etch your way towards your dreams, and thrive."
Priyanka Shekhawat, BI and Data Engineering Consultant
As a BI Consultant/Data Engineer at Adastra, Priyanka helps clients build data infrastructure and visualize data in a way that facilitates better decision-making.
Being relatively new to Canada and the local work culture, Priyanka initially had apprehensions and doubts about her abilities. Her hard work, perseverance, and ability to quickly learn new skills paid off and she was recognized as an "Adastra Superstar" for the successful delivery of her very first project. With that confidence boost, she now sees herself leading projects and mentoring others in 5 years. "My continuous effort is to learn as much as possible and acquire additional skill sets to enhance my career growth. In the future, I would like to see myself as a thought leader, driving the usage of new technologies to better address client needs and helping others become better professionals."
She loves the opportunity she gets to work on wide spectrum of technologies and enjoys the challenges different projects throw her way. "The mentorship, guidance, and emphasis on growing your domain knowledge at Adastra has helped me become a better, well-rounded professional."
Coming from a background where there is still much to be done in the areas of female literacy and gender balance, Priyanka challenged and broke gender stereotypes in her quest to be part of an inspirational success story. "I believe talent has no gender. Maintaining gender equality helps in scaling up firms, and the society in general, as a wider talent pool with diverse perspectives sparks creativity/ innovation and allows organizations to identify and seize new opportunities."
Besides her work, Priyanka spends her time mentoring and coaching IT students at her university. She also enjoys playing sports (especially badminton) and listening to spiritual talks/podcasts.
She believes that smart work and confidence are the pillars to success. "Never hesitate in taking new challenges. It is normal to have self-doubt but keep working hard to achieve your goals and success will eventually follow. Like they say, there is no elevator to success, you have got to take the stairs."