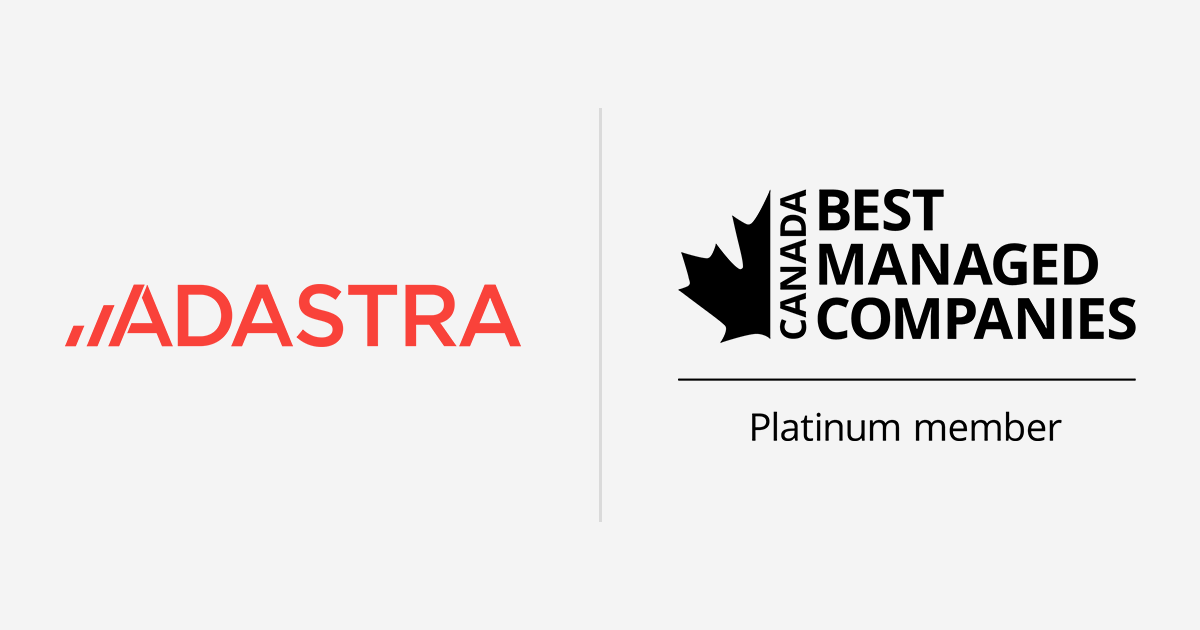 Toronto, ON – May 9, 2023 – Adastra was once again recognized for its industry-leading performance, its global business practices, and its sustained growth by receiving the 2023 Canada's Best Managed Companies Platinum Club designation for the twenty-first consecutive year.
Celebrating its 30th anniversary, Canada's Best Managed Companies program awards excellence in private Canadian-owned companies with revenues of $50 million or greater. To attain the designation, companies are evaluated on their leadership in the areas of strategy, culture and commitment, capabilities, and innovation, governance and financial performance.
"We are very proud to be entering our 21st consecutive year as a Platinum Club member. In a rapidly changing marketplace, the Adastra team has, year after year, been able to adapt, innovate and develop creative solutions to enable our clients to harness the power of their data," says Darren Edery, CEO, Adastra. "The impacts of this award are wide-reaching, bolstering our client and partner confidence, global awareness and employee morale."
Canada's Best Managed Companies is one of the country's leading business awards programs recognizing innovative and world-class businesses. Every year, hundreds of entrepreneurial companies compete for this designation in a rigorous and independent evaluation process.
Applicants are evaluated by an independent panel of judges with representation from program sponsors and special guests.
In another exceptional year, Adastra continued to expand our industry-leading data and analytics operations, leveraging our strengths in supply chain and analytics, into Florida and California, both emerging technology hubs in the United States. In response to strong marketplace demand, we added two new practice areas in Security and Application Development and continued to deepen key partner relationships.
In 2022 we were also able to invest in our employees through accelerated training and development programs, the launch of our first mentorship program, and new initiatives and benefits to support wellbeing.
For the fourth consecutive year, Adastra won three Microsoft Impact Awards, recognition from Clutch.co as one of Canada's Top Cloud Computing Consultants and received two investments from SCALE AI to apply artificial intelligence and analytics to transform business processes for our clients in the retail and manufacturing industries.
"This year's Best Managed winners displayed courage, resourcefulness, and creativity as they explored new avenues for advancement," said Lorrie King, Partner, Deloitte Private and Co-Leader, Canada's Best Managed Companies program. "We're extremely proud to recognize the impressive achievements of companies such as Adastra in this particularly rapidly evolving business world. Their successes demonstrate the importance of strong leadership and forethought in driving long-term growth."
About Canada's Best Managed Companies Program
Canada's Best Managed Companies program continues to be the mark of excellence for privately-owned Canadian companies. Every year since the launch of the program in 1993, hundreds of entrepreneurial companies have competed for this designation in a rigorous and independent process that evaluates their management skills and practices. The awards are granted on four levels: 1) Canada's Best Managed Companies new winter (one of the new winners selected each year); 2) Canada's Best Managed Companies winner (award recipients that have re-applied and successfully retained their Best Managed designation for two additional years, subject to annual operational and financial review); 3) Gold Standard winner (after three consecutive years of maintaining their Best Managed status, these winners have demonstrated their commitment to the program and successfully retained their award for 4-6 consecutive years); 4) Platinum Club member (winners that have maintained their Best Managed status for seven years or more). Program sponsors are Deloitte Private, CIBC, The Globe and Mail, Salesforce and TMX Group. For more information, visit www.bestmanagedcompanies.ca.
About Adastra
For over two decades, Adastra Corporation has transformed businesses into digital leaders, helping global organizations innovate, achieve operational excellence, and create unforgettable customer experiences, all with the power of their data. At the forefront of Artificial Intelligence, Data, Cloud, Digital and Governance services, Adastra delivers solutions to enterprises to leverage data they can control and trust, connecting them to their customers – and their customers to the world.